Your older Ford Super Duty pickup truck is now over 17 years old, but if yours is running like top, why spend $83,000 on a new one, an interior upgrade may be the answer. We refurbish these seats to brand new OEM quality. Whether you have a F250 F350 F450 or larger your total cost for custom cooled air conditioned and heated seats will be under 6k. We Custom Build these seats to order with brand new seat skin covers from Katzkin. You'll get to choose your primary color, insert color, stitch color, and perforation style. Contact Us  or email us custom@oemcarandtruckseats.com. Knowledgeable Customer Service with our Rest Easy Fitment Call Guarantee on every purchase. 

1999 - 2010 Ford Super Duty Seat Options
Solid Bench Seat
Most commonly found in the work trucks, this seat spans the full width of the truck without any breaks in the cushion.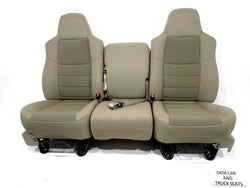 40/20/40 Split Bench Seat
These seats came as a three-piece bench seat. The center seat folds down to allow for use as an arm rest. Early models came with a coin holder, later models came with two cupholders. The Captain's Chairs can be converted to be a 40/20/40 Split Bench Seat with some modification.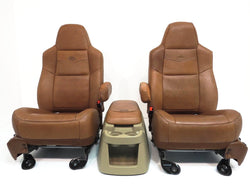 Captain's Chairs aka Bucket Seats
This layout featured seating for two up front. The seats had folding arm rests which take up the space that would otherwise be occupied by the center jumpseat.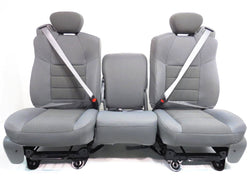 2001 - 2003 Super Duty Super Cab XLT & Lariat Seats
Certain extended cab models in this year range have integrated seatbelts. If you have this style seat you must either replace it with the same style or convert your truck to having ceiling mounted seatbelts. That can be done by sourcing seatbelts from a supercab work truck.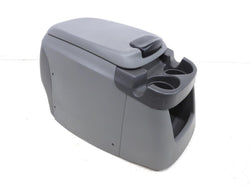 Jump Seat to Center Console Conversion
If You Have a 40/20/40 Split Bench this swap is very easy. You can use any console removed from a 1999 - 2007 Ford Super Duty or Excursion. These consoles are a direct bolt in however they do sit low and are not suitable for use as an armrest. The 2008 - 2010 Ford Super Duty Console is a good pick for a direct bolt-in that is usable as an armrest.
Center Console to Jumpseat Conversion
If you need seating for three in the front row, we've got you covered. This swap does require removal of the armrests and some light modification. Jumpseat conversion instructions are available.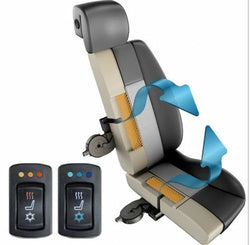 Custom Made To Order Seats Available
We offer these Custom Built Seats in brand new condition made to order. We offer leather, suede, and even exotic materials, all in a wide variety of colors. Air conditioning, heat, power tracks, and adjustable lumbar are all available.
Super Duty Seat Swaps & Retrofits
You can also use the 2011 - 2016 Ford Super Duty Seats in your vehicle with some minor modifications. Check out our Ford Super Duty Seat Swap Guide for more information.
Super Duty Center Console Swaps
Looking for a console that's suitable to use as an armrest and big enough to hold your bowling ball? The 2008 - 2010 Super Duty Console is the way to go. This console will directly bolt into all 1999 - 2016 Ford Super Duty Trucks. It even sits high enough to use as an armrest for the 1999 - 2007 models!
1999 - 2010 Ford Super Duty Custom Seat Builds
We proudly offer these seats in fully refurbished condition. You can order these in the Katzkin Factory Match color above for the 1999 - 2007 models, or in factory replica leather for the 2008 - 2010 models.
If you are looking for unique seats for a unique build we're you go-to. If you have an exact vision in mind we can make it happen, and if you're not sure one of our Auto Interior Designers can provide a professional recommendation with renderings!
Custom Build Info
Custom Air Conditioned Seats Available
Can't Find the Right 1999 - 2010 Super Duty F250 Ford Truck Seats & Consoles?