If you are looking for 2004-2008 Ford F150 Seats or a F150 center console, you are in the right place. Front and Rear Seats, consoles and Center Jump Seats For sale. Special editions include the Harley Davidson and the King Ranch which can be seen below. Some of the features that were available for these F150 seats include power track adjustment, memory, lumbar support, and heat.

If you want that special one of a kind set of seats, Our Custom Seat Department will help you through the process from beginning til end. If you have any questions of concerns feel free to Contact Us for more information
2004 - 2008 Ford F-150 Seat Options
40-20-40 Split Bench Seat
This layout offered seating for three in the front row. The center seat folds down for use as an armrest.
40-Console-40 Bucket Seats
This layout offered seating for two up front with a plastic center console between the two front seats.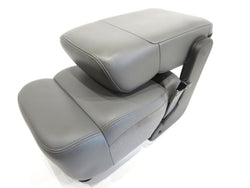 2004 - 2008 F150 Work Truck Style Jump Seat
This Jump Seat is only offered in Flint Gray Vinyl. The center jump seat console folds down to become a well padded armrest with no storage. In the up position this seat allowed seating for three.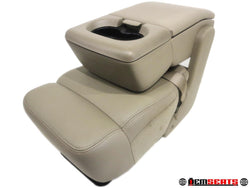 2004 - 2008 F150 XLT Style 40/20/40 Jump Seat
These seats came as a three-piece bench seat with seating for 3 people. Power adjustable driver seats are available along with manually adjustable lumbar. The center seat folds down to allow for use as an arm rest and also features two cup holders and storage.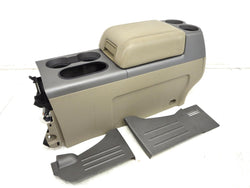 2004 - 2008 F150 Center Consoles
On highly optioned trucks the front row offered two bucket seats, often with power adjustable seat tracks and seat heaters.
2004 - 2008 F150 Seat Swap Seat belt Guide: By Cab Size
The Regular Cab and SuperCab F-150 Seats feature integrated seat belts. The F150 SuperCrew used body-mounted seatbelts, so the Seat did not have integrated seat belts.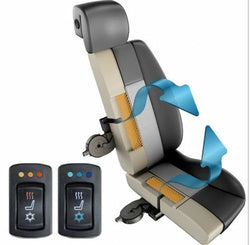 Custom Made To Order F-150 Seats Available
We offer these seats in brand new condition made to order. We offer leather, suede, and even exotic materials, all in a wide variety of colors. Air conditioning, heat, power tracks, and adjustable lumbar are all available.
2004 - 2008 Ford F150 Rear Seats
For the 2004 - 2008 model years the F-150 Extended Cab and Crew Cab used the same rear seat. Rear seats of crew cab trucks received a folding armrest.
Special Edition Ford F150 Leather Seats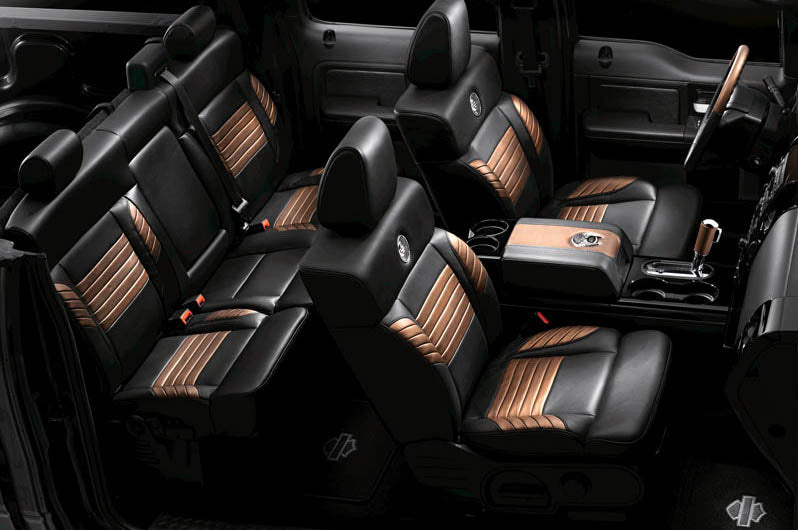 2004 - 2008 Ford F-150 Harley Davidson
The F-150 Harley Davidson Seats came in a variety of colors and stitch patterns. The 2008 F-150 Harley Davidson seats featured dusted copper leather accents and badges commemorating the 105th anniversary of the foundation of both Harley Davidson and Ford Motors.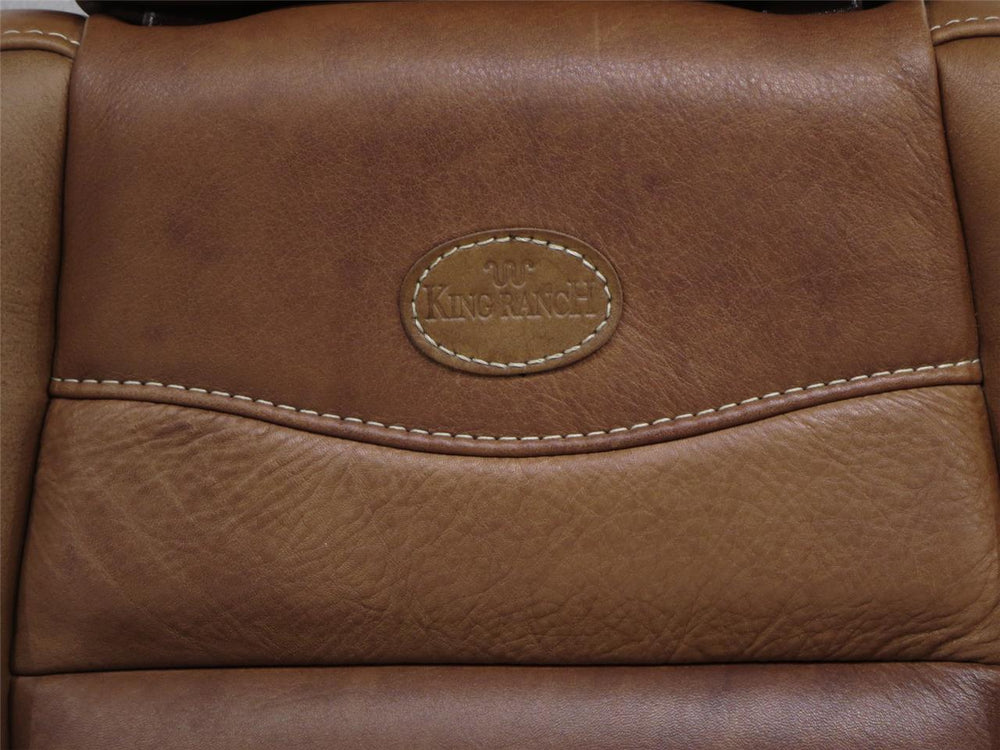 2004 - 2008 Ford F-150 King Ranch Leather Seats
These seats featured a beautiful Castano Leather in a rich brown hue. A Leather Patch featuring a King Ranch "Running W" emblem was stitched onto the seat backs. Rear seats were available both in the 60/40 split bench. Seat memory was standard for the driver's seat. Heated seats were standard for the King Ranch.
Can't Find the Right 2004 - 2008 Ford F150 Seats, Center Consoles & Jump Seats?