Recent Reviews with Photos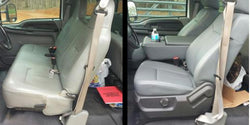 ⭐⭐⭐⭐⭐
Thanks guys, I can fit in the truck while my wife is driving now. Thank god for bucket seats
Project: 2002 Ford Super Duty Seat Swap, 2016 Super Duty Seats
⭐⭐⭐⭐⭐
The old seat went out and new seat went in in less than 30 minutes we just needed to add power! Very happy with our purchase!! Jon gave absolutely wonderful customer service, kept us updated every step of the way. You will not be sorry if you buy from this company!
Project: Custom Two-Tone 2006 Ford Mustang Heated & Cooled Seat Retrofit
The BEST

Great communication,packaging SUPER,prompt delivery, Product better then expected

Melissa H. Jacksonville, FL 9/12/2023

big thanks

perfect cust service and professionalism..
Jeremy A. Rochester NY 9/2/2023
love them
Michael P. Boulder, CO. 8/14/2023
More seating

Looks like we are having twins! The rear captains chairs in my Suburban had to go and the 3 person second row really came in handy!

Mary, Gaithersburg MD 8/6/2023
Thanks Guys

I am extremely satisfied with my purchase. The seat arrived quickly and was easy to install in my 2011 Silverado.

John, Sour Lake TX 7/31/2023

Lost package

As described nice piece Lost by UPS replaced by seller.

Adam, Columbia MO 7/25/2023
Good product, Shipping issues

the shipping company lost the package for four days, Jon stayed on top of it and kept me updated throughout. The seats arrived late but as described.

Alan A, Akron OH 7/19/2023

got here early

i ordered the seats here and some carpet cleaner on amazon prime on the same day... they both arrived two days later. 

Adam, Ocala FL 7/10/2023

Ford Console

fast service....5 star all the way... thanks.

Jeff S, Rapid City SD 6/27/2023

Great deal

Got all 3 boxes today and seats are in excellent shape!! Only disappointment was the Corona box used as packing was empty, LOL

Douglas S, Cincinnati OH 6/21/2023
good

Arrived on time and is as described. Used but in great condition. Recommend!

Paul T. Idaho Falls, ID. 6/16/2023
easy retrofit

worked in my 07 2500 color is close

Albert, Portland ME 6/12/2023
Well packed

I was nervous buying a full interior and having it shipped but everything showed up perfect, well packed and protected. Sales staff knew their stuff.

Daniel, Del Rio TX 5/30/2023
'15 Chevy work truck

Leather is great big upgrade from the old grey fake leather seats that came in it. Did the carpet at the same time and you cant even tell from the inside that it used to be a basic model.

Alex, Idaho Falls ID 5/8/2023
Charger PPV

No longer feels stripped down.

Alex, Jacksonville FL 5/2/2023
Console for the police tahoe

I bought a Tahoe Police vehicle and needed a center console. The dealershp couldn't even look up the right one, I found the blog on the website and it really made my install easy

Michelle, Gallup NM 4/29/2023
F250 Center Seat

I needed to fit an extra worker in my 04 F250. Thanks for the help, the jumpseat worked out perfectly.

Jose, Amarillo TX 4/14/2023
Fit perfect...

am very pleased this. Excellent customer service.
Roger M, Rochester NY 4/8/2023
very nice

Thank you Folks for the service and some very nice truck seats . Jim .

Jim, Appleton, WI 4/2/2023
Awesome

As described great communication great packaging, arrived sooner than stated👍🏼.

Frank C, Jacksonville FL 3/30/2023
Made it before christmas as expected

Was sitting on metal, much beter now. thanks.
Carl, Little Rock AR 3/25/2023
Great

Worked out great for my 1998 3.8 mustang. No problem easy install

Edward, Oceanside NY 3/24/2023
perfect conditon

very fast shipping!!
Gregory, Henderson, NV 3/18/2023
Thank you for the recommendation

My 3rd row seats got stolen out of my escalade. Upon the fitment phone call Jon suggested a 3rd row anti theft device and showed me where to get it

Bryce, Detroit MI 3/17/2023
Looks Great!

Can't wait to install them. Super Fast delivery !
Paul T. Denver, CO. 3/16/2023
mint

like new

Bryce E. Portland, OR. 3/15/2023
worked with me

Thanks for helping with the forwarder. they look great
.
Henry, Edmonton Alberta, CA. 3/14/2023
A pleasure to do business with

Very helpful. Fast shipping. Thank you
Michael S. Dunmore, PA. 3/12/2023
real nice

seats were packed great. thanks
Alan R. Bowie, MD. 3/12/2023
Beautiful Seats

perfect conditon and very fast shipping!!
Pedro, Monrovia CA 3/10/2023
AAA+++

Nice seats, fast delivery, honest people to work with. Thanks
Michael C, Dallas TX 3/9/23
5 star service

I am extremely satisfied with my purchase. The seat arrived quickly and was easy to install in my 2011 Silverado.
Greg E, Sterrettania PA 3/6/2023
Long time to find but good product
Fred, Salt Lake City UT 3/6/2023
fast shippng

Good purchase overall. good communication and fast shipping.

Aaron V, Bowling Green KY 03/02/2023

Excellent customer service and quality seats

Probably the best buying experience I've had off amazon. Center console came in and it was cracked. It happened in shipping. They even had it packed very well, not their fault. I reached out the day it came in and sent replacement parts out same day! Awesome customer service. Recommend them 100%.
Anthony E, Mooresville NC 2/22/2023
GREAT TO DEAL WITH

After purchase I had a question and Chuck was quick to provide an additional picture of the item purchased within less than 24 hrs. The item arrived just as mentioned in the description unlike others I have dealt with. I will definitely by again from OEMSEATS. Great service all the way around!!!!!
James L. Richmond, VA 2/19/2023

GREAT TO DEAL WITH

FAST SHIPPING. FIRST CLASS OPERATION.
Simon M. Green River, UT 2/11/2023

Excellent customer service and quality seats

really impressed with the prompt shipping and easy installation process
Jennifer S, Portland Or 2/1/2023
Right on👌
JJ, Birmingham AL 1/19/2023

Great

As described great communication great packaging, arrived sooner than stated👍🏼

Jimmy, Buffalo NY 1/24/2023

Perfect 10

Don't make the same mistake I did! I went with someone else first and received a seat that didn't match and didn't have the functions my original seat had. Expensive mistake! This company called, texted, and verified that I was getting the right seats before shipping, and this transaction was PERFECT!! The seats--from a 2013 Cadillac--look brand new! I couldn't be happier!! This is the company you want to go through!! 5 stars, but a perfect 10!!!
Joe G, Austin Tx 1/10/23

a long time coming

This is the second set of seats I bought for my truck. I have a 2014 Silverado 2500 HD and the seats I initially bought from another company wouldn't bolt in. Apparently a HD and a regular truck are different for that year. After losing about 300 bucks and two weeks of my time on that deal I got i found this page. I called and it was picked up by a person! There was no transferring around, I was just on the phone with someone who knew my trucks seats better than I did! As soon as I mentioned that I have a 2500 HD they immediately knew it was the other style of seat that I needed. They happened to have it in stock and I got $100 off as well.
I ordered the seats Friday, got them wednesday, and installed thursday! Less than 7 days total for the whole process. Most importantly, they bolted right up and plugged right in. I would have saved a lot of time and money if I called here first. Thank you. 

JJ, Birmingham AL 12/15/2022

Great

As described great communication great packaging, arrived sooner than stated👍🏼

Jimmy, Buffalo NY 11/27/2022

Quick shipping

Got here before expected, thank you.

Jake, Miami FL 11/19/2022

Better than what I was sitting on.
Daniel, San Clemente CA 10/26/2022

Feels like new

I've owned this truck since it was new and these made it feel like day 1 all over. Shipping took a while.

Brandon, Phoenix AZ 10/12/2022

What a difference!

The old drivers seat back frame was bent from an accident years ago, but I didn't know until I removed the seat that the seat frame was actually broken at the rear of the seat track. Thanks for making these adapter brackets available, and for such great service

Kerry, Fargo ND 9/25/2022

Easier Than i thought

Talked me through the install process, way easier than I thought. Dealer wanted hundreds of dollars for basically noting. Thanks

James, Milan TN 9/18/2022

exactly as described

best packaging ever seen-great quality
Rhonda, Jefferson, GA 9/12/2022
Great condition

They look just like the photos.

Charles, Wichita KS 8/28/2022

Lost Package

USPS said my package was delivered but it wasn't in the mail. I called and Jon assured me that I was covered. We waited two days and it didn't show, another was sent out shortly after. Quick and professional
.
Jack, Harrisburg PA 8/12/2022

Perfect Match

Third row seat were stolen while we were at a hotel and these are a perfect match. Shipping dept sent them same day and they were here before our vacation ended.

David, Birmingham AL 8/1/2022

Bolted Right Up

Just as described. Great packaging and shipping. A+++

Jim M. Shreveport, LA 7/25/2022

extremely happy and thankful
I don't know where to start other than I have been looking for a 3rd row for over 3 years now. The whole process was easy and I was more than pleased with the availability of the seat. As soon as I purchased the seat I received a phone call from OEM Car and Truck Seats very soon after! I was very surprised because it was on a weekend!! The gentleman made sure I had the right year, make and model so the seat would fit perfectly. On top of that, with Hurricane Dorian on the horizon I expected the seat to be delivered later than expected. But it was delivered ahead of schedule! The seat was in wonderful condition, just like the pictures showed. I truly appreciate the honesty!! I could go on and on but to make a long story short I am extremely happy and thankful for OEM Car and Truck Seats!
Jermaine, Greenville SC 7/15/2022
100% Satisfied

The pair of cloth bucket seats appeared to be very nice in the online pictures. So I called them and asked some questions and got quick and accurate answers, plus he went right to the seats and replies "he's looking at the seat now". Well they did NOT disappoint. These seats are like new. Even the foam in the drivers lower is in perfect shape. Packaging is very well done. 100% satisfied.

Larry, Thief River Falls MN 7/6/2022
The new seats fit great
Peter, Grand Junction CO 6/29/2022
Good packing

confirmation phone call with in 24hrs and was delivered 7days early.fair price. packed up like a professional
Noah B, Aurora Mo 6/15/2022
5 stars
under budget and ahead of schedule
James, Miami FL 6/9/2022
Excellent

As described!! THANK YOU

Hector, Wichita KS  6/5/2022

Escalade Hybrid

Fit perfect...am very pleased this. Excellent customer service.

Rob, Richfield UT 5/30/2022

great

item was as described and arrived ahead of schedule.

Owen, Eau Claire WI 5/23/2022

Katzkin Seats

I've had my 7.3 Super Duty since 2000, the interior was just destroyed from all the years. Replaced the interior with the complete set of Katzkins refurbished by oem car and truck seats. Replaced the carpet too. My interior looks new again.

Raymond, Milwaukee WI 5/13/2022

A+

Good product shipped quickly,packaged well, nice,A+
Aaron R, Salisbury MD 5/04/2022
Seats in great condiation.

Good communication. Would buy from again.
Casey C. Grand Island, NE 4/25/2022
Well packed

very reasonable shipping. Came in about 5 days

Walter O, Amarillo TX 4/18/2022

Power Seats

I wanted to add power seat adjusters to my F350, got the whole kit and help with the wiring.

Michael, Buffalo NY 4/14/2022

Fast Shipping
Tim, Columbia SC 4/11/2022
Like new

When I called I was skeptical about the quality/condition, he assured me that they were almost like new, I was not disappointed, they look awesome, almost like they just came from the fatory
Aaron R, San Bernadino CA 4/04/2022
:)

Great service and product. Easy transaction. Would buy from again.
Greg D, Anahiem CA 3/30/2022
Good product

Good product shipped quickly,packaged well, nice,A+
Lincoln H, McKean PA 3/22/2022
Excellent

went above and beyond in packaging and attention to detail in parts accessories to help with install. would do business again. communication the best I've had. very quick replies and in my case quick shipping
Charles L, Mobile AL 3/18/2022
Excellent

Excellent packaging and speedy shipping! Exactly as described and great people to work with! AAA+
Larry T, Charlotte NC 3/10/2022
Thanks for locating them, they look great
Erik, Dallas TX 3/3/2022
Great

Exactly what they said it would be. Very happy with purchase. Would buy again tomorrow. These guys do it right! Called to verify my order, and get verbal confirmation before shipment. Discussed condition and expectations before it left too.
Chris E, Jacksonville FL 2/25/2022
Thank you

Just like new!!! The pics didn't do them justice! Thank you so much!
Hank A, Cocoa FL 2/21/2022
Great

Exactly what they said it would be. Very happy with purchase. Would buy again tomorrow. These guys do it right! Called to verify my order, and get verbal confirmation before shipment. Discussed condition and expectations before it left too.
Al C, Detroit Mi 2/15/2022
Great

went above and beyond in packaging and attention to detail in parts accessories to help with install. would do business again. communication the best I've had. very quick replies and in my case quick shipping
Charles M, Mobile AL 2/9/2022
Resolved the issue quickly

A few weeks after install one of the seat motors stopped working, called customer service and they resolved the issue quickly. Received a replacement seat motor with instructions within three days. Very happy with the purchase.
Steven C, Boca Raton FL 1/31/2022

Thank you

Shipping company lost a box for a few days and I was kept in the loop the whole time by the sales rep while they were trying to figure it out. Everything is here and looks awesome

George, Farmington NM 1/16/2021
Better Than The Original

These make it waaaaaaaayyyyyy more comfortable

Johnathan, Grand Junction CO 1/9/2021

3 days from order to installation
The sales staff was helpful and got the order to leave the day i placed it, two days later the delivery company called to schedule delivery, and on day 3 I had the seats and completed installation
.
Morgan, Little Rock AR 12/26/2021

Console for my '32 Ford

Worked out great, the sales guy worked with me over the phone to find a console small enough to work. Turns out most new truck consoles are too  wide to go into old trucks, but Jon took the time to find the perfect one.

Gavin, Decatur GA 12/13/2021

Whoops

Had a little accident in the back seat and John was able to help me get the right replacement seat and refer me to some other products for the cleanup of the carpet
Dennis R, San Diego CA 12/2/2021
Raptor Seats

I was pretty nervous to spend this much online on something I couldn't look at in person. That being said everything arrived with good protection.
Jimmy H, Los Angeles CA 11/21/2021
I Couldn't Be Happier

I couldn't be happier with the seats and the staff at OEM. It turned our that the first set of seats I selected had been altered by the previous owner and wouldn't fit my vehicle. The staff at OEM had my VIN and identified the problem before the seats were shipped. Keith advised me he had two more sets coming in the next week that would fit my vehicle. He held both sets for me to have first choice. The seats I selected turned out to be a better look and a better price than the first set. Shipping was included, they arrived on time and my mechanic installed them in a few hours. No problems. I highly recommend OEM. They are honest and live up to their promise of a guaranteed fit.
David S, Los Angeles CA 11/17/2021
FLO Grown

Awesome set of seats, cost an extra $30 to get delivered to my house but overall very happy with them
Brandon U, Jacksonville FL 11/9/2021
Worth the wait

Took a long time to find the perfect saets but it was worth the wait.

John, Atlanta GA 10/29/2021

Works Great

Took 5 mins to install and now I have a consol again.

Wade, Salt Lake City UT 10/21/2021

Thank you

Thanks for working with the insurance company
James, Columbia SC 10/9/2021
Brand new

Great refurb job

Jerry, Corpus Christi TX 9/28/2021

Perfect Office Chair

I just bought an 2014 Genesis R-Spec, and fell in love with the seats. Found out that I could get the same seat as an office chair! My car and my desk chair match now.

Jake, Annapolis MD 9/17/2021

Very Satisfied
Recently purchased Jeep Wrangler cloth seats, after submitting info to the "request list". By that point, had tried multiple other options for OEM seats, with no luck. Wasn't sure I would ever hear back. Happy to get an email from Keith with a great option and promptly purchased. Seats came quickly, well packaged and as described. Website pix very detailed and accurate, and Keith ensured I was aware of minor defects and specs. Seat re assembly is required, and some mechanical knowledge is helpful. Our customer service experience, both before and after purchase, was wonderful and made the whole process worthwhile. I wish I had that with other products I have purchased. The price was well worth it and I am very satisfied with the seats.
Katherine H, Lexington KY 8/10/2021

Plug and Play

My challengers seat track went bad and the leather wasn't looking so good. Thanks to Jon for the help finding a plug and play set. Helped me through the whole process and install.

Jack, Meridian MS 8/28/2021

Bleach spill

My better half went shopping put the grocery bags on the rear seat, the bleach was leaking and destroyed the rear seat. Thank u for the fast shipping.
Marcus V, Bowie Maryland 8/10/2021
Custom air conditioned seats

The only company on the internet that sells AC/Heated 03-07 Super Duty Seats. Thanks for the great customer service!
Rico W, NYC New York 7/25/2021
Now I can fit 3 people in the front seat

great product and fast shipping
FREDRICK L, RENO NEVADA 6/30/2021
04 Mustang Seats

perrrfect fit My interior is 100% now...thanks to the OEM Team
Phil K, Meadville PA 6/11/2021
Great seats and customer service

my silverado looks great inside, shipping a bit slow
Bryan P, LA CA 6/2/2021
My old F-150 looks new again

Great customer servis, and I'm not sitting on metal anymore
Tommy K, Tulsa OK 5/2/2021
Great Seats

New seats for my F-150. Thank you for all the help
Corry B, Jackson MS 02/13/2021
Now I fit 3 in my Tahoe 2nd row

Thankyou Jon for the help
Thomas T, Worcester MA 01/13/2021
Great seats for my hotrod

thank you for all the help
Jim V, Austin TX 12/29/2020
Thank God for a fitment call

I ordered the wrong seats, but since oemseats does a fitmentcall the mistake was caught and Jon set me up with the correct seats
Lisa W, Little Rock AR 12/11/2020
thank you

Great customer service
Braddly M, Austin Tx 12/01/2020
Finally Leather seats in my Jeep

This company does a fitment call, before shipping to make sure the seats will work for you, and supply you with advice THANKS
Lon P, Las Vegas NV 11/17/2020
Damn Bleach

bleach bottle opened unto my back seat, now I'm back to normal
Ricky V, Boston MA 11/10/2020
Thank you

Great seats, but your freight company was a bit slow
Terri M, Odessa Tx 10/12/2020
Fast shipping Great seats

no more sitting on metal. My work truck is comfortable again
Mike K, Augusta GA 10/11/2020
Building a 66 Impalla

These guys know their stuff. They walked me through getting the right seats for my Hotrod
Peter l, Atlanta GA 9/13/2020
New Wrangler, no rear seat

Just bot a new Wrangler without the rear seat now its complete, thank you guys
tammy H, Meadville PA 9/5/2020
My dog ate my front seats

OEM Seats had just what I needed...My SUV is back to normal....fast shipping
Ted V, Buffalo NY 8/27/2020
Jon was great to work with

My F-150 interior is perfect again
Mike A, little rock AR 8/21/2020
Fast shipping and well packaged

Seats loook AWESOME
Terry M, RENO NV 8/14/2020
Great Company to work with

Needed seats for a project hotrod, I gave them my measurement that I had to work with and they gave me suggestions live via Facebook video messanger...Awesome
Brett G, Topika KS 8/05/2020
great deal on my truck

Bought a Silverado, CHEAP with cloth, now it looks 100% better with leather TY Jon, great customer service
Jim S, Raleigh Nc 07/30/2020
my rear seat was stolen again

fast shipping great product
sammual g, Toledo OH 07/17/2020
Wifey spilled bleach on the rear seat

This purchace was a perfect match, great customer service, Thank you OEMSEATS
Mathew B, Denver CO 07/13/2020
just what I needed

With the jump seat I have room for 3 up front in my Silverado
Tristan O, tampa FL 07/9/2020
Great seats

easy install, shipping a bit slow
Mark P, Buffalo NY 07/8/2020
popped right in

bought a tahoe with no third row seats....got a great deal here
Tommy G, Dallas TX 06/24/2020
Super Seats

great deel,fast shipping
Paul M, cleveland Oh 06/22/2020
Customer Service is AAA++++

After my foam broke down , I was basicly sitting on metal for the last 8 months. My seat are comfortable again
James V, Tampa Fl 06/15/2020
Great seats....TY

I love my truck again...thank you guys
Cornelious A, Hill Side NJ 06/8/202
Small shipping issue

I had an issue with shipping but Jon in customer service got it handled
Brian R, Pittsburgh PA 06/5/2020
Unbeiveabel, fast shipping

I wish I upload pictures of my 1999 f150 it looks soooo good now
Pietro C, Atlantic City nj 05/29/2020
Perfect Fit

After installing the seats my 02 Silverado looks looks new again
Mark O, St Louis mo 05/23/2020
Happy wife, Great life

Now all the childrens will fit
Malcolm D, Austin TX 05/12/2020
seats look great

finally got the cigarett e smell out of my car. did carpet at the same time its like new now.
timothy c, canton oh 05/08/2020
worked perfect

shipping was faster than exected product was good too
chuck d, boise ID 5/5/2020
great stuff

everything worked good just one box got damaged in shipping got sent a new part fit good thanks
Tommy B, Amarillo TX 4/27/2020
Excellent transaction.

Everything exceeded my expectations. Hope to buy more.
Jerry M, Dallas TX 4/27/2020
Very well packaged

great looking seats!! Thanks

David V, Ft Myers FL 4/20/2020

thanks

Thank you very much, fast shipping, item as described!!!

James F, Columbus OH 4/10/2020

looks good

Seats look brand new

Claire, Savannah GA 4/6/2020

Looks Great !

Can't wait to install them. Super Fast delivery !
Joseph B. Gallup, NM 4/6/2020

Saved over a thousand bucks

My wife spilled bleach in back seat of my leased Silverado. The dealer wanted over $2000 to replace everything. Thank you so much for finding the seats for me.

Darrel, Savannah GA 4/03/2020

Thanks
Perfect, wife can finally see over the dash without sitting on a pillow. Thankss
Dave, Laredo TX 3/30/2020
I had a jumpseat in my silverado, but I wanted more storage. I got the console and one of the service reps gave me info on how to install it. Thanks.
Eli, Detroit MI 3/24/2020
amazing

The seats were in amazing condition, shipping and communication was excellent!

Cheyenne, Tulsa OK 3/20/2020

Fast shipping, God Bless
Armand, San Angelo TX 3/18/2020
awesome

These look like my seats did ten years ago

Laura, Amarillo TX 3/14/2020
Arrived 5 days early!

Look great! Problem with wires seller solved the problem
Michael S. Columbia, SC 3/09/2020