Looking for Ford Mustang seats for sale or a Mustang back seat, how about the infamous Mustang Recaro Seats? Stop your search, we sell 1994-2023 Front and Rear Ford Mustang Seats. If we are out of stock for what you need, simply fill out our Seat Request Form and we will contact you when a new set comes in.

Besides the obvious body style changes, the one thing that has evolved through the generations were the seats. Below is information for the different Generations of Mustang Seats, Cobra Seats, Recaro Seats, GT Seats & more.
Ford Mustang Seat Information Guide
1994 - 2004 SN95 & "New Edge" Seats
Also known as the SN95, this pony had options for powered seats, manual seats, powered lumbar, 2-way adjustable headrests, and 4-way adjustable headrests. Some seats in this range are 'flat' and some have a more round, padded look. These seats are getting hard to find in good condition, we recommend considering fabrication of newer seats.

2005 - 2009 "S197" Seats
Known as the S197, this fully reimagined mustang introduced a retro-styled design. The seats also reflected this style, with more pronounced side bolsters and stitching patterns. Airbags were an option for this generation. GT seats featured a powered driver's seat with lumbar. The GT/CS trim added those same power functions to the passenger's side as well as including seat heaters for both seats.

2010 - 2014 "S197 Refresh" Seats
Still technically a S197 Mustang, this vehicle was more of a refresh than a new offering. New colors and materials were added including leather seats with racing stripes.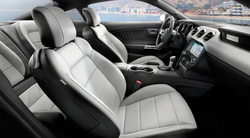 2015 & Newer "S550" Seats
The fully redesigned S550 Mustang featured power seats as a standard feature on most models. Premium models offered climate-controlled seats with 3 heating and 3 cooling settings.
These late model mustang seats are a great for fabricating into older vehicles. They feature flat rails, power seat tracks and the ability to fold forward. We offer heat & AC hookup for our custom seats.
S550 Occupancy Sensor Advisory
Ford regularly updated their occupancy sensors during this generation. After installation if you see an airbag light you likely need to use your original occupancy sensor. The swap is simple, requires no special tools and only takes a few minutes.
From our experience the computers seem to be specific to these year ranges: 2015 - 2017, 2018 - 2020, 2021+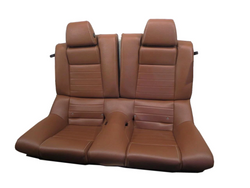 Mustang Rear Seat Un-Delete
Since 2008, we have been the go-to resources for rear seat restoration in the Ford Mustang. If you're adding a rear seat to your Mustang please give us a call to make sure we get you everything you need to go back to stock.
Mustang Custom Seat Builds
If you are looking for unique seats for a unique build we're you go-to. If you have an exact vision in mind we can make it happen, and if you're not sure one of our Seat Build Designers can provide a professional recommendation with renderings! Simply Contact Us to get your Custom Build started.
Heating & Cooling are available on all custom built Mustang seats newer than 1994.
Custom Build Info
Custom Air Conditioned Seats Available
Evolution of the Mustang
The Ford Mustang is not just a car, it's a legend. There are so many different opinions out there about where the name came from a Plane or a Horse. Also questions of why Ford went from 2 seater  to a 4 seater or from mid engine to front engine. It has gone through many changes since it was born. The Ford Mustang I concept car was unveiled to the public at Watkins Glen on October 7, which had seating for 2 people. The 1965 Ford Mustang which now seated 4 people, made its debut at the World's Fair on April 17, 1964 and was the hottest selling car for that year with
over 400,000 units sold.
Can't Find the Right 1994 - 2023 OEM Replacement Ford Mustang Seats?