I

t is possible to install 4th Gen seats in 2nd Gen Dodge Ram trucks. You can view some videos on YouTube and photos on the Dodge Forums. We carry many 4th Gen Ram Seats in cloth and leather and many colors.

2002 - 2009 Ram Seat Options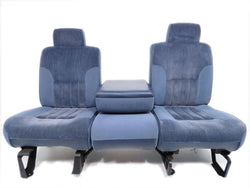 Regular Cab & Club Cab Seats
The front seats for the regular and club cab trucks are essentially the same. The quad cab truck featured a rear bench seat allowing for three additional passengers. These two door trucks feature body mounted seatbelts.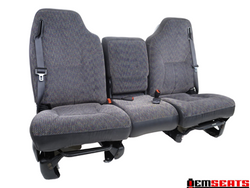 Quad Cab Seats
The quad cab had four doors to allow for access to the rear bench seat. The two rear doors opened backwards. To make the rear seat more accessible the quad cab featured integrated seatbelts - seatbelts that were built into the seat itself instead of being mounted to the cab.
Ram "Sport" Laramie Seats
These seats are the white whale of the second generation Ram. Similar in features to the SLT Plus, the truck featured a 40-20-40 Leather Bench Seat. A large RAM emblem was embroidered onto the headrests. These also received intricate seat heaters that heated multiple areas of the seats.
Related Product Videos
1994 - 2002 Ram Custom Seat Builds
When parts are available we can provide these in fully refurbished showroom condition - we can even add air conditioning to the seats!
If you are looking for unique seats for a unique build we're you go-to. If you have an exact vision in mind we can make it happen, and if you're not sure one of our Auto Interior Designers can provide a professional recommendation with renderings!
Custom Build Info
Custom Air Conditioned Seats Available
Can't Find the Right 1994 - 2002 Dodge Ram Seats and Jump Seats?