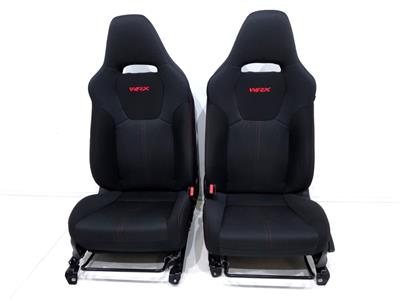 SUBARU IMPREZA WRX
OEM FRONT SEATS
THEY WERE REMOVED FROM A 13 SUBARU IMPREZA WRX STI
WITH 21K MILES

THESE SEATS ARE BLACK IN COLOR
WITH A CHARCOAL GRAY PATTERNED INSERT
WITH RED STITCHING AND WRX EMBROIDERY

DRIVERS AND PASSENGER HAVE A MANUAL TRACK
WITH MANUAL RECLINE
DRIVERS HAS MANUAL RAISE/LOWER LEVER

SEE ALL OF OUR DETAILED SUPERSIZED PHOTOS
WE HAVE NOTHING TO HIDE
SEAT CONDITION TABLE     (10 BEING NEW)
CLOTH                                                    9.3
TRACKS / RAILS                                     9.2
STITCHING                                              9.1
PLASTIC TRIM                                        9.2
COLOR                                                    9.4

THESE SEATS ARE IN GREAT SHAPE, THERE ARE A FEW SPOTS IN THE MATERIAL ON THE PASSENGER SIDE AND AVERAGE WEAR ON THE DRIVERS......SEE PHOTOS

THE PRICE HAS BEEN REDUCED DUE TO THE FLAWS

THESE SEATS WILL FIT:
2012 - 2016
SUBARU IMPREZA WRX
THESE MAY FIT OTHER MODELS. DO YOUR RESEARCH. CHECK FORUMS.

THE MATCHING REAR SEATS ARE AVAILABLE
SEE SEAT PURCHASING OPTIONS AT THE TOP OF THIS PAGE

THEY ARE NOT INCLUDED IN THIS LISTING AND WILL BE ADDED TO YOUR INVOICE IF NEEDED

THESE SEATS HAVE THE TRACK MEASUREMENTS... SEE PHOTOS OF THE BOTTOM OF THE SEATS TO COMPARE THEM TO YOURS

NOTE :
THE WIRING OF THESE SEATS MAY HAVE CHANGED THROUGH THE YEARS, SO WE TOOK DETAILED PHOTOS OF THE WIRES AND CONNECTORS....MAKE SURE THEY MATCH YOURS

FREE PICKUP OF ITEMS ARE NO PROBLEM AT ZIP CODE 32904
MELBOURNE FLORIDA