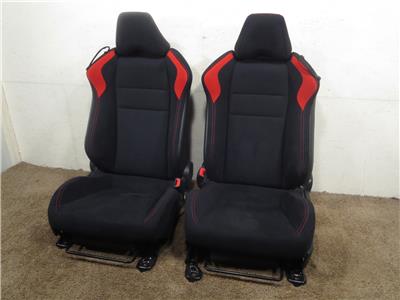 SCION FRS
SUBARU BRZ
"TOYOTA GT86"
OEM FRONT SPORT SEATS
THEY ARE BLACK IN COLOR
WITH THE RED 'RAVEN WINGS'
AND RED STITCHING



SEAT TRACKS HAVE BEEN TESTED
BOTH ARE MANUAL
DRIVERS HAS HEIGHT ADJUST
BOTH SEATS RECLINE AND FOLD FORWARD
THEY BOTH HAVE AIRBAGS





THESE SEATS WERE TAKEN FROM A 2014 FRS
WITH 25K MILES


THERE ARE NO RIPS HOLES OR TEARS
THE SEATS ARE IN GREAT SHAPE

SEAT CONDITION ( 10 BEING NEW )
CLOTH                                9.3
TRACKS/ RAILS                  9.2
STITCHING                         9.0
COLOR                               9.1
PLASTIC TRIM BEZELS      9.2

THESE SEAT ARE IN EXCELLENT SHAPE, JUST BELOW AVERAGE WEAR ON THE DRIVERS SIDE .

THEY WILL FIT:
2013, 2014, 2015
SCION FRS
SUBARU BRZ
TOYOTA GT86



FABRICATORS:
SEAT PANS HAVE A FLAT AREA FOR ATTACHING OEM RAILS, THIS MAKES IT FAIRLY EASY TO MOUNT CUSTOM TRACKS ONTO. SEATBELT RECEPTOR CAN BE SWAPPED WITH YOUR OWN VERY EASILY.
THE OVERALL SEAT AND TRACK MEASUREMENTS ARE IN THE LAST PHOTOS
THESE ARE GREAT FOR YOUR PROJECT CAR OR TRUCK


REARS ARE AVAILABLE IN OUR OTHER ITEMS.
CONTACT US THROUGH THIS ITEM FOR PACKAGE PRICING.