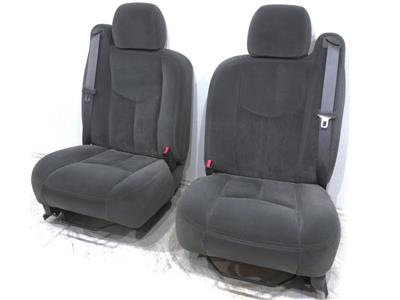 GM 00-06 CLOTH SEATS
THEY ARE DARK GREY IN COLOR
GM OEM VERY DARK PEWTER
CHECK OUR OTHER ITEMS FOR CONSOLES

THESE SEATS WERE TAKEN FROM A 03 SILVERADO WITH 90K MILES.
BOTH SEAT TRACKS HAVE BEEN TESTED
BOTH SEAT TRACKS ARE INCLUDED
BOTH ARE FULLY MANUAL
THESE SEATS DO NOT HAVE AIRBAGS

SEAT CONDITION(10 BEING NEW)
CLOTH                                  8.5
TRACKS / RAILS                  9.1
STITCHING                           8.2
COLOR                                 8.8
PLASTIC TRIM BEZELS      9.0

THE CLOTH IS IN PRETTY GOOD SHAPE FOR ITS AGE, THERE IS A BURN ON THE PASSENGERS SIDE, AND SOME MINOR WEAR WHERE YOU SLIDE IN AND OUT.....IT'S ALSO A LITTLE BIT FADED BUT BELOW AVERAGE CONSIDERING HOW OLD THESE TRUCKS ARE GETTING. FOAM IS STILL IN GREAT SHAPE...THERE ARE SOME MINOR WEAR SPOTS FROM WHERE THE SEATBELTS SIT...

PERFECT FOR A WORK TRUCK

PRICES HAVE BEEN REDUCED........SEE CLOSE UP PHOTOS
THEY WILL FIT:
00-06
GM- CHEVROLET -GMC
TRUCKS AND SUVS
-TAHOE
-AVALANCHE
-SUBURBAN
-SILVERADO
-SIERRA
-YUKON
THEY ALSO FIT 99-06 SILVERADOS WITH INTEGRATED SEAT BELTS



FABRICATORS PLEASE NOTE:
THE LAST PHOTOS DETAILS THE OVERALL SEAT AND TRACK MEASUREMENTS
ALSO THROUGH THE YEARS GM CHANGED THE WIRE PLUG CONFIGURATION SO YOURS MIGHT NOT FIT THESE SEATS... SIMPLY FIND A KNOWLEDGEABLE CAR AUDIO INSTALLATION SERVICE AND THEY CAN DO THE WIRING.